---
Don't be fooled by the seemingly clear air before your eyes. Every breath you take fills your lungs with uncountable amounts of aerosols, many of which are harmful to human health.
These ubiquitous bits of matter come in two forms: Solid particulate and drops of liquids, both of which are small and light enough to remain airborne for near-indefinite periods of time.
Furthermore, aerosols are not just limited to human cities. There are many aerosols that originate in natural sources, such as the column of smoke rising from a fire, the ash that belches from the maw of an active volcano, or the dust in the wind.
As a result, aerosols are present everywhere in the entire planet. Deserts, forests, frozen tundras, mountains, and oceans are just some of the natural ecosystems whose skies are filled with them.
The airborne molecules are invisible to the human eye. But many hundreds of kilometers above our heads, the electronic eyes of satellites are able to pick up large concentrations of aerosols. (Related: AEROSOLS: Tiny particles found to have a big impact on weather.)
The skies are full of all kinds of aerosols
NASA recently released imagery made by the Goddard Earth Observing System Forward Processing (GEOS FP) computer modeling system, which depicted the distribution and concentration of aerosols in the atmosphere on August 23, 2018.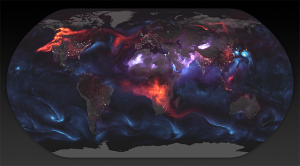 That day was particularly significant in the grand scheme of things. The North American and African continents were shrouded in dense smoke, the Pacific region hosted a terrifying trio of tropical cyclones, and dust storms swept through deserts in Africa and Asia.
Sponsored solution from CWC Labs: This heavy metals test kit allows you to test almost anything for 20+ heavy metals and nutritive minerals, including lead, mercury, arsenic, cadmium, aluminum and more. You can test your own hair, vitamins, well water, garden soil, superfoods, pet hair, beverages and other samples (no blood or urine). ISO accredited laboratory using ICP-MS (mass spec) analysis with parts per billion sensitivity. Learn more here.
The powerful winds of the tropical cyclones haul sea spray high into the air, filling the Pacific skies with so much sea salt aerosol that you can almost taste it. The black carbon particles over North America and Africa are much less pleasant for humans; they are toxic products of fires, factory emissions, and vehicle exhaust.
For the sake of convenience, the aerosol concentrations were color-coded. The sea salt is colored blue, the black carbon is red, and dust is denoted by purple.
Providing a different means of recreating past weather
Climate and weather computer models calculate the events that took place in the skies during days like August 23. They use mathematical equations to simulate fires, storms, and other physical processes that take place in real life.
To increase its accuracy, a computer model is fed data taken from the appropriate events. The data consists of physical measurements of aerosols, moisture, temperature, winds, and other related properties.
The measurements are collected by satellites in orbit and ground-based sensors. The two sources complement each other.
Take the GEOS FP imagery, for example. It can predict the behavior of the plumes of black carbon by looking at the location and intensity of the fires producing the smoke.
To do this, it used satellite data on the radiative power of the fire. The data was collected by the Aqua and Terra satellites as they passed over North America and Africa during August 23.
On that day, massive wildfires were raging throughout parts of Canada and the U.S. Meanwhile, in Central Africa, local farmers were setting many small fires around their agricultural lands and pastures to protect them from the encroaching wilderness.
Computer models like GEOS FP give researchers a better means of keeping track of aerosol levels, allowing them to come up with better approaches to reduce the amount of those substances in the air.
Find out more about the various natural and man-made aerosols filling the skies at Ecology.news.
Sources include: